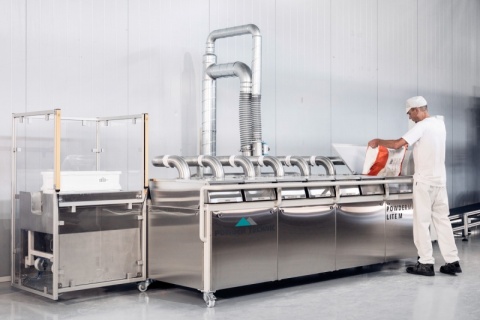 The new Powdermatic™ Lite M is a machine that doses precisely weighed batches of ingredients automatically to collector boxes that move on a dosing track. The filled boxes are identified with a printout,that tells the contents of each box. The filled  boxes are then manually emptied to a dough mixer or a dry mixer. Due its unique patented ( pending) control and dosing features, the machine is capable of dosing up to 200 batches / hour.  
"The Powdermatic™ Lite M is without a doubt the fastest small ingredient dosing unit in the market", says Powder Technic's CEO Tuomo Kousa. We looked at existing equipment in the market and found out that they are painfully slow and unergonomic to use. We decided to come up a machine that is incredible fast and still ergonomical to use. I think we nailed the both targets with the Powdermatic Lite M, Kousa continues.
The Powdermatic™ Lite machine will be presented to public at IBA bakery exhibition in Powder Technic's stand B5/458
Interested to learn more ?
Watch a video here..
Read more...